Dehumidifiers: Your Solution for Optimal Indoor Comfort
Struggling with excessive indoor humidity? Whether you're building a new home, upgrading existing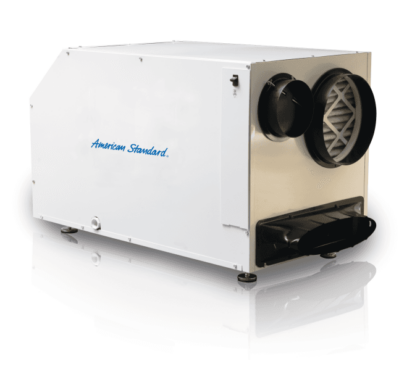 spaces, or merely seeking enhanced control over the moisture levels throughout your residence, whole-home dehumidifiers could be your ideal solution. The latest advancements in HVAC technology allow you to manage indoor humidity levels effectively, ensuring a comfortable and healthy environment for you and your family.
At Steve's Heating and Cooling, we are Kansas City's premier specialists for installing and maintaining whole-home dehumidifiers. These advanced units integrate with your home's existing ductwork, offering precise and consistent humidity control across all living spaces.
Whole-home dehumidifiers provide an efficient, targeted solution for homes of all sizes! These systems work with your existing HVAC setup, pulling excess moisture from the air as it circulates. The result? A balanced, comfortable indoor climate, greater energy efficiency, and a healthier living environment.
There are several benefits to installing a whole-home dehumidifier, including:


Protecting your home: Excess moisture can lead to water damage, which can be costly to repair. By removing the excess moisture from the air, a dehumidifier can help to protect your home, its furnishings, and wood flooring and prevent damage.

Reducing mold growth: Mold thrives in damp environments, and excess moisture in your home can create the perfect breeding ground for mold. By removing the excess moisture from the air, a dehumidifier can help to prevent mold growth, protecting your home and your family's health.

Improving indoor air quality: A dehumidifier can also help to improve indoor air quality by reducing allergens and other airborne particles.

Reducing odors: Excess moisture can lead to unpleasant odors in your home. By removing the excess moisture from the air, a dehumidifier can help to reduce these odors, making your home a more pleasant place to be.

A dehumidifier is an essential piece of equipment for a homeowner looking to reduce excess moisture in a home. Whether you're dealing with mold growth, water damage, or unpleasant odors, a dehumidifier can help to solve these problems and improve your indoor air quality.

Contact Steve's Heating & Cooling for a quote. A dehumidifier can help you enjoy a healthier, more comfortable home.