A Heating & Cooling Solution Without Ductwork
Ductless Mini-Splits for Heating and Cooling
Need a non-traditional heating and cooling solution? Whether you're dealing with new construction, adding on or renovating new rooms, or simply need more effective temperature control in spaces, ductless mini splits can be your perfect solution. Recent advancements in the HVAC industry have made this new solution possible. Ductless mini splits provide both the heating AND the cooling you need.
Steve's Heating and Cooling are Kansas City's experts for repairing and installing ductless mini splits. These small units are installed to provide ultimate temperature control for desired zones. They do not require the installation of any ductwork throughout your home.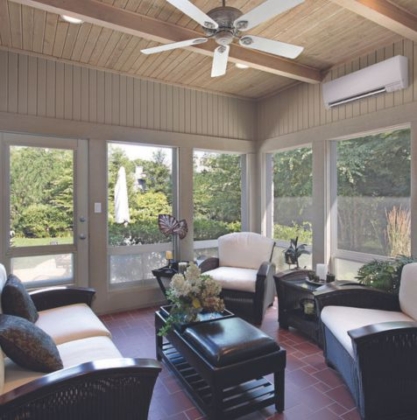 Ductless Mini Splits are a simple solution for many homes and spaces!  Mini-split systems focus on individual spaces rather than every room inside a home. They are customizable, more flexible, energy efficient and easier to install. From an individual room to a larger zone, these units give you excellent temperature control without requiring air distribution ducts.
Great Reasons for Ductless Mini Splits
Controlling how hot your kitchen gets
Remedying a sunroom that gets hotter than other rooms
An added-on room that doesn't gets warm enough in the winter
Eliminating a window AC unit for a room that doesn't receive enough airflow
Making a garage more comfortable to work in
There are a variety of mini-split options. Steve's Heating & Cooling can help you find the ductless mini split that will provide the right temperature control for your space. Our team of HVAC technicians are trained and experienced in the repair and installation of ductless mini splits. Call us to learn if a mini-split system is right for your space – 816-436-8475.
Steve's Heating & Cooling has provided professional heating and cooling solutions to the Kansas City area for four decades! Our qualified team can be relied upon to solve your heating and cooling problems properly.